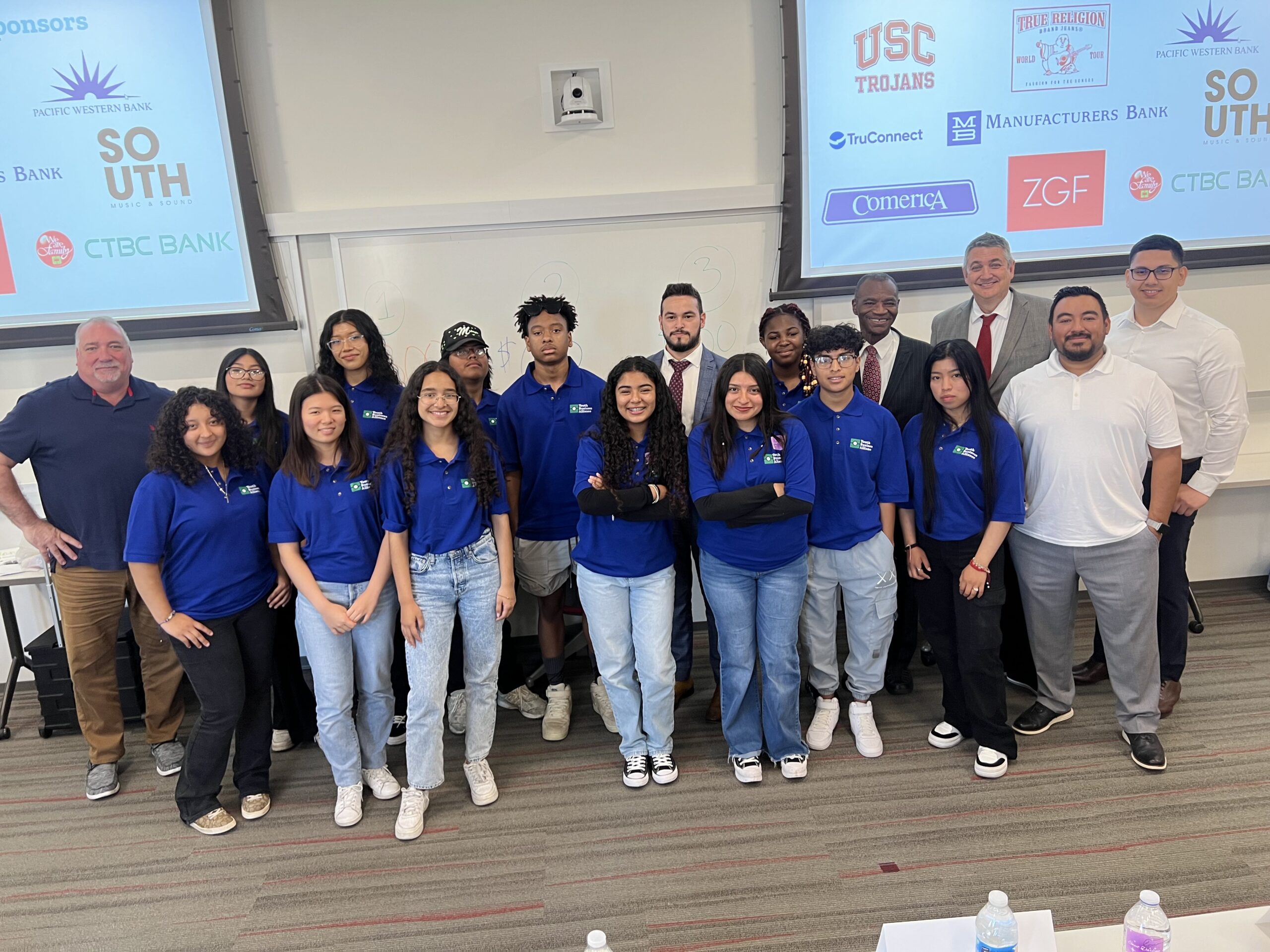 YBA'S SUMMER CAMP BRINGS "SHARK TANK" TO STUDENTS
For the past four years, Youth Business Alliance has hosted an incredible Summer Camp – and this year was no exception. Structured "Shark Tank" style, the camp brings together 12 lucky students to work in teams to create and present business pitches for actual prizes. They're guided through the process by talented mentors and learn first-hand through field trips.
This year's camp started on July 17th where the 12 YBA students gathered at the USC Marshall Greif Center and met their mentors and panel of judges.
Leading the charge was Gonzalo Casillas, Business and Finance Teacher and Athletic Director at Dr. Maya Angelou Community High School. Mr. Casillas worked collaboratively with YBA to implement the camp curriculum, arrange the program logistics and lead the overall event.
"This entire program was great," shared Casillas. "It was phenomenal working with the students to ultimately see it crescendo to a final project where everything finally clicked. It was amazing."
Over the course of the two-week program, YBA Summer Camp students worked on their "Shark Tank" style business ideas and presentations and learned about business even more in-depth through field trips to Universal Studios, CTBC Bank and South Music (a production studio).
New Designs Charter High School Seniors Kimberly and Alanys didn't know what to expect as they had never taken a YBA program before. "The first day was difficult because it was a new environment and new people," shared Kimberly. "We learned about finance, assets, and how to develop and market a business as an entrepreneur. Then we paired up with someone and created a company based on a word. Our word was candy. So our business idea was to target pre-diabetic kids to be organic and be healthier."
"One of my favorite parts was the trip to Universal Studios. We had a scavenger hunt about Universal Studios, asking us questions about their employees, how much we think they've historically paid them, and how much tickets and rides have cost. We learned that the first time they opened, tickets were six cents!," shared Alanys. "The whole Camp was not high stress – until presentation day! That was nerve wracking!"
Gino Spinelli, Executive Director at Manufacturers Bank, loved his role as a Summer Camp judge and mentor and leveraged his business connections to enhance the Summer Camp even more.  "I contacted my friend Kirk Brennan, Director of Undergraduate Admission at USC, to speak to the students," shared Spinelli. "He discussed the benefits of understanding their true worth and that any school would be lucky to have them. I felt this was another boost to their confidence."
Alanys definitely felt that confidence boost. "I wanted to be a lawyer but now I'm considering being a business major due to this YBA program. They got me!"
"I was once told to become a teacher not for the income, but for the outcome," shared Casillas. "I believe we can impact students' lives through teaching, and YBA's Summer Camp is a shining example of an innovative way to do just that."