Post: August 25, 2020
One of YBA's most important new initiatives for 2020 was a Zoom Summer Camp program! 
We are extremely grateful to the Auerbach Legacy Foundation for sponsorship of the camp. Students had a safe space to build new skills and receive valuable lessons, while earning a stipend, competing for prize funds and receiving YBA swag and Certificates of Completion! 
During the business consulting themed program, students learned about sectors of the economy, industries, business start-up, marketing, consumer behavior, SWOT analysis, and worked in teams to complete and deliver a case study presentation. Student teams presented to an audience and panel of judges, advising their mock client Facebook on how to gain market share with Gen Z.
The class met daily for three weeks, with a curriculum designed and led by veteran YBA teacher Kristian Markus. Markus was grateful for support and teamwork from fellow YBA teacher Getsemani Marquez and Nadia Sandoval with program coordination.  Thank you, team, for running a smooth program!
In follow-up surveys, 85% of the students said that after the YBA Camp they feel more knowledgeable about business and more comfortable giving a presentation. Students valued the experience of working in a team with new people, and gaining insight from the guest speakers, as well as learning about new concepts like consumer behavior and SWOT analysis. 
Camp went by quickly, and many of the students asked for future sessions, so YBA will offer on-going workshops for the campers to continue expanding their business knowledge. Thank you students, we are so proud of you!
Allyson, Ashley, Clarissa, Daicy, Dylan, Edwin, Emmanuel, Esther, Gary, Jasmine, Kameron, Luis, Mayra, Michael, Michelle, Nalani, Odalis, Pedro, Tiffany and Yenesy
Thank you Camp Volunteers for serving as guest speakers, coaches and competition judges!
Barney Santos, Gentefy
Beth Sestanovich, System1
Dominica Scibetta, SOAP at Cal State Long Beach
Erica Luna, Banc of California
Jacqueline Russell, Banc of California
Joey Jefferson, NASA Jet Propulsion Laboratory
Jorge Aceves, Green Dot Schools
Kevin Shiosaka, Banc of California
Liz Marie, Liz Marie Strategy
Lizzy Martinez, Cal State Long Beach student
Mustafa Hammoud, Banc of California
Vanessa Garcia, Emerald Health Services
###
BLACK LIVES MATTER: A message from Youth Business Alliance
June 19, 2020
To our community of partners, supporters, teachers, students and volunteers,
As the school year comes to a close, we would like to thank you all for your partnership with Youth Business Alliance (YBA). 
As we pause to celebrate our 2020 graduates, we are, at the same time, facing a deeply challenging time for our country. First, we have suffered thousands of lives lost due to the COVID-19 pandemic, and have witnessed the disproportionate negative health and economic impacts on communities of color. Then, we have faced the stark reminder that it is the responsibility of our entire community to address the oppression and violence of racism in its many manifestations. 
We recognize the evidence of systemic racism in every aspect of our society: policing, incarceration, education, healthcare, housing, economic security, employment, wealth, capital, and the psychological trauma of these generations-old discriminatory practices.
YBA stands in solidarity with all who demand justice for those named and unnamed who suffer the effects of racism. Black Lives Matter. YBA pledges to continue to support the fight against racial injustice. 
The question has been asked, "Is YBA a social justice organization?"
Yes. 
Social justice is justice in terms of the distribution of wealth, opportunities, and privileges within a society. At YBA, we are committed to creating opportunities for youth of color in low-income neighborhoods. For example, in 2019-2020, YBA students were 87% Latino, 10% Asian and 3% Black, and an estimated 93% received free or reduced price lunch. 
We are committed to:
Expanding our program to serve more youth in low-income communities, 

Increasing education in

business, careers, entrepreneurship and personal finance, and

 

Supporting students to develop the soft skills needed to successfully pursue their careers.
What YBA will do to contribute to the efforts moving forward:
Host a facilitated dialogue for our YBA leadership and community to ensure our members are educated on the impact of racism on the black community, unconscious and racial bias, and ongoing tools to eradicate racism in America. Watch lists created by

Time Magazine

and

Netflix

and resource guides on sites like

Medium

and

National Museum of African American History & Culture

can provide self-guided education on anti-racism. 

Incorporate curriculum into the program that introduces students to black leaders in business and the practices and effects of the economic suppression of black communities.

Strengthen our outreach efforts to high schools where significant numbers of African American students are enrolled, and waive program fees where necessary to launch partnerships.

Continue to diversify our guest speaker base and recruit more volunteers of color.

Engage in dialogue with our community partners on how we can collectively work together on ongoing initiatives.
To our partners, students, teachers and supporters in the Black community, YBA stands with you in the struggle and pain. We are here for the journey ahead, with a vision that one day our work will no longer be necessary, and that every young person will have a wealth of knowledge and access to opportunities in a world that allows them a secure and peaceful existence. 
This is just the beginning. We want to hear from you. Please share your thoughts with YBA on how together we can address racism in our community, by clicking here.
Join the conversation. Please RSVP here for our first dialogue on how the YBA community can support the fight to end racism.
In Gratitude,
The YBA Board of Directors and Staff
Welcome our new Executive Director, Betsy Blanchard!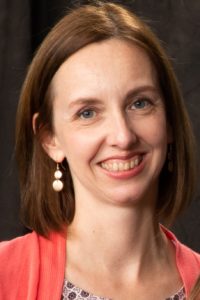 About Betsy
Betsy joined Youth Business Alliance (YBA) in 2020 as Executive Director. For more than 20 years, Betsy has dedicated her career to serving organizations that empower and educate under-resourced communities. Along with YBA partners, speakers and supporters, Betsy is committed to elevating YBA's impact, helping youth develop the skills necessary to succeed in life and in their careers. Prior to joining YBA, Betsy served as Director of Development at Bresee Foundation and Proyecto Pastoral. She served in program management and fund development roles at Network for Teaching Entrepreneurship, the YWCA of the City of New York and New York Cares. She co-founded a small start-up organization in New York City, Girls CAN, a Girls Community Action Network. Ms. Blanchard earned her BA at Amherst College and her Masters' In Social Work at Columbia University.
Post: August 25, 2020 One of YBA's most important new initiatives for 2020 was a…
June 19, 2020 To our community of partners, supporters, teachers, students and volunteers, As the…
A group of prominent Southern California investors and entrepreneurs will gather tomorrow in Santa Monica…