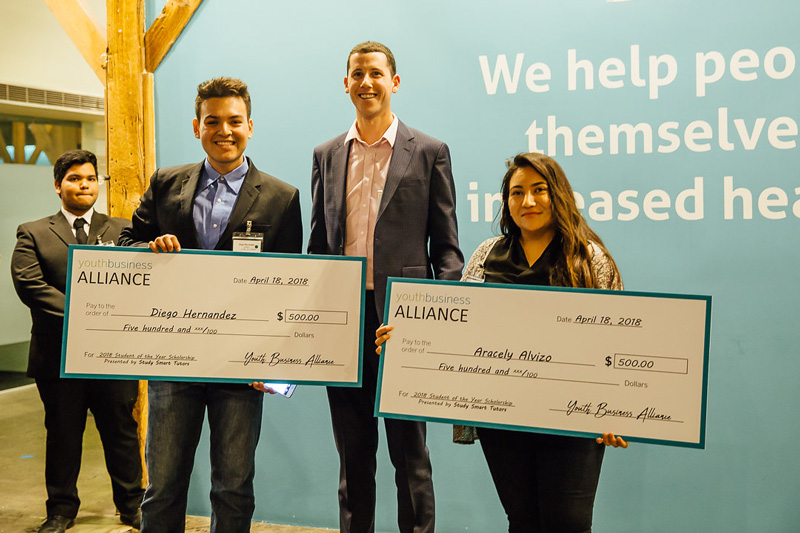 Post: August 25, 2020
One of YBA's most important new initiatives for 2020 was a Zoom Summer Camp program!
We are extremely grateful to the Auerbach Legacy Foundation for sponsorship of the camp. Students had a safe space to build new skills and receive valuable lessons, while earning a stipend, competing for prize funds and receiving YBA swag and Certificates of Completion!
During the business consulting themed program, students learned about sectors of the economy, industries, business start-up, marketing, consumer behavior, SWOT analysis, and worked in teams to complete and deliver a case study presentation. Student teams presented to an audience and panel of judges, advising their mock client Facebook on how to gain market share with Gen Z.
The class met daily for three weeks, with a curriculum designed and led by veteran YBA teacher Kristian Markus. Markus was grateful for support and teamwork from fellow YBA teacher Getsemani Marquez and Nadia Sandoval with program coordination. Thank you, team, for running a smooth program!
In follow-up surveys, 85% of the students said that after the YBA Camp they feel more knowledgeable about business and more comfortable giving a presentation. Students valued the experience of working in a team with new people, and gaining insight from the guest speakers, as well as learning about new concepts like consumer behavior and SWOT analysis.
Camp went by quickly, and many of the students asked for future sessions, so YBA will offer on-going workshops for the campers to continue expanding their business knowledge. Thank you students, we are so proud of you!
Allyson, Ashley, Clarissa, Daicy, Dylan, Edwin, Emmanuel, Esther, Gary, Jasmine, Kameron, Luis, Mayra, Michael, Michelle, Nalani, Odalis, Pedro, Tiffany and Yenesy
Thank you Camp Volunteers for serving as guest speakers, coaches and competition judges!
Barney Santos, Gentefy
Beth Sestanovich, System1
Dominica Scibetta, SOAP at Cal State Long Beach
Erica Luna, Banc of California
Jacqueline Russell, Banc of California
Joey Jefferson, NASA Jet Propulsion Laboratory
Jorge Aceves, Green Dot Schools
Kevin Shiosaka, Banc of California
Liz Marie, Liz Marie Strategy
Lizzy Martinez, Cal State Long Beach student
Mustafa Hammoud, Banc of California
Vanessa Garcia, Emerald Health Services